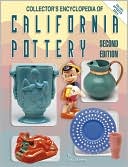 Collector's Encyclopedia of California Pottery
First released in 1991, this pottery book has been greatly expanded, with hundreds of new color photographs and new information about the beautiful work of the potters of California. Over 30 different artists and companies are represented - company histories, interesting background information, as well as marks and signatures complement the gorgeous photographs found in each section. All items featured are given collector values reflecting today's secondary market.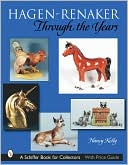 Hagen-Renaker Through the Years - Price Guide Book
The Hagen-Renaker pottery company of California was founded in the garage of John and Maxine Renaker in the mid-1940s. They vigorously pursued the dream of having their own pottery company, creating appealing, yet affordable, figurines, along with a few table pieces. Their dream blossomed into reality, and the business has grown over the years, a testament to the desirability and durability of their creations. Here are the unique products the company produced as it grew, illustrating how it and the designers who worked there evolved and matured. It presents hundreds of charming Hagen-Renaker creations, from their realistic horses to whimsical or stylized animals in many varieties. Also included are some fabulous test pieces, a chapter dedicated to identifying and dating Hagen-Renaker pieces, and a current price guide.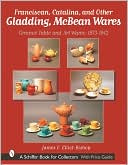 Franciscan, Catalina, and Other Gladding, McBean Wares: Ceramic Table
The early terra cotta, garden wares, tiles, Franciscan line, and Catalina artware produced by the prolific Gladding, McBean and Company from the late 1800s to 1942 are covered and beautifully displayed in this fascinating book. The Franciscan pottery table and artware line, so named to honor the Franciscan Friars who established Spanish Missions in California, was one of the most successful product lines produced by California's Gladding, McBean and Company. Among the dishes displayed here are their most popular patterns, including El Patio, Coronado, Metropolitan, Apple, and Desert Rose.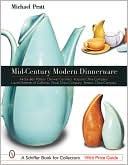 Mid-Century Modern Dinnerware Book
The bold shapes and startling patterns on dinnerware of the late 1940s, 1950s, and 1960s are displayed in over 480 dazzling color photographs. Much of the best work of six leading pottery manufacturers, Ak-Sar-Ben Pottery, Denwar Ceramics, Iroquois China Company, Laurel Potteries of California, Royal China Company, and Stetson China Company, is shown and described in detail. The dinnerware shapes, including Bantu, Casual, Futura, Holiday, Impromptu, and Scandia, produced by these important manufacturers are well represented to attract collectors today. An engaging scholarly text is filled with new research about the companies and their wares, grading guidelines, informative tables, detailed endnotes, and an extensive bibliography. Current market values are provided in the captions. This dinnerware is an exciting gallery of mid-century design.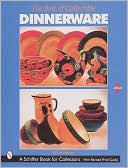 Best of Collectible Dinnerware Book
Here at last is a thorough guide of the most collected dinnerware. In one volume this book provides an excellent survey of the best companies and their most popular lines. The important California companies, including the Wallace China Company, Catalina Pottery, BJ Brock & Co., and Gladding, McBean & Co. along with other companies nationwide including the Crooksville Art Pottery Co., Frankoma, and the Hall China Company, are among the many potteries represented. The contributions of famous designers such as Ben Seibel, Russel Wright, Eva Zeisel, and Sascha Brastoff are explored. Extensive research has uncovered new information on many of the companies and designers. Over 300 clear photos, extracts from catalogs and advertisements, historical photos, and a well-documented text will help to identify dinnerware, to trace changing technological and design trends, and to showcase an industry in its heyday. As the journey to uncover and identify all the American produced dinnerware from the twentieth century continues, this book serves as an important milestone and an important reference.
Encyclopedia of American Art Tiles: Region 6 Southern California
Over 4500 images appear in this beautiful and comprehensive, four-volume set. This massive compilation reveals the great diversity and intrinsic beauty of art tiles produced across the length and breadth of the United States from the late nineteenth through the twentieth centuries. Tile installations of great beauty include panels, individual tiles, and inserts adorning building facades, interiors, furniture, and garden ornaments. These volumes explore the wildly varying themes and distinctive art styles of six regions of the nation. Among the 161 companies represented are AE Hull, American Encaustic, Brayton Laguna, California Art Tile, Catalina Pottery, Flint Faience, Gladding McBean, Grueby, Marblehead, Newcomb, Niloak, PacificClay Products, Rookwood, Saturday Evening Girls, and Weller. The text includes tile identification as well as valuable advice on collecting art tiles, a glossary, an index, and bibliography. This set is an essential reference for all who are fascinated with the ceramic arts.