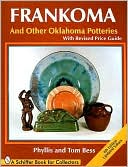 Frankoma Pottery Book: And Other Oklahoma Potteries with Price Guide
Now in its third edition, this immensely popular reference book about Frankoma Pottery features nearly 100 new photos! Beginning with the Frankoma Pottery, the authors present the histories of many Oklahoma firms, including Tamac, Sequoyah, Cherokee, and Winart, the clays, glazes, and trademarks by which each firm may be identified, and the variety of pottery they produced. The ceramics range from sculptures, masks, and limited edition series to vases, planters, and dinnerware available all over America. The new photographs and up-to-date price guide make this book required reading for all Frankoma enthusiasts.
---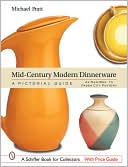 Mid-Century Modern Dinnerware: A Pictorial Guide Book
This colorful book provides a sweeping overview of the modern tableware designs introduced by leading pottery firms from the 1940s through the 1960s. So extensive is the coverage that this volume surveys forty-seven potteries from A to P, including American Limoges, Buffalo, Century House, Frankoma, Hall, Mayer, Pacific, and Pfaltzgraff. A second volume will be required to present the rest. Over 500 vivid color photographs display these modern tableware designs at their best. The concise text presents new information, grading guidelines, a detailed bibliography, and an index. Current market values are found in the captions. Anyone who appreciates modern design will find this book a treasure.