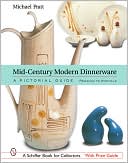 Mid-Century Modern Dinnerware:
A Pictorial Guide: Redwing to Winfield
Over 500 beautiful color photographs and an informative, succinct text provide a sweeping overview of stunning modern tableware designs. This book presents manufacturers both familiar and less known that revolutionized dining in the mid-twentieth century. Among the pottery firms whose wares are presented are Red Wing, Roseville, Royal China, Salem China, Stangl, Steubenville, Universal, Vernon Kilns, Winart Pottery, and Winfield China. A great deal of new information about the wares displayed may be found within these pages. Additionally, useful information concerning pricing and condition of ceramics is included, along with an extensive bibliography and index. Values may be found in the captions. While this book stands alone, it is also a companion volume to Mid-Century Modern Dinnerware, A Pictorial Guide: Ak-Sar-Ben to Paden City Pottery. This volume will be a valued addition to anyone entranced by fine ceramic design.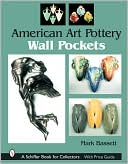 American Art Pottery Wall Pockets
This is the ultimate guide to ceramic wall pockets, presenting the work of more than 60 American pottery firms. Beautiful pieces, designed in every color and shape imaginable to hold, primarily, flowers, are displayed in more than 570 stunning color photographs. Nearly all the wall pockets made by Roseville and Weller are included as well as many from Brush-McCoy, Camark, Frankoma, Hull, Nelson McCoy, Peters & Reed, Rookwood, Fulper, Grueby, Marblehead, Owens, and Teco. Arts and Crafts era wall pockets from California Faience, Jervis, Newcomb Pottery, George E. Ohr, Overbeck, Strobl, Walley, and Wheatley are also presented. Typical manufacturers' marks are displayed, a selected bibliography is provided, and values are presented in the captions.